Product Description
Material
 DMC/PA66/ABS/Copper
 Current
 63A
 Voltage
 220V
 Packaging
 1 pc/paper box or 2 pcs/foam box,36pcs/carton
 Warranty
 2 yearS
 Certification
 CE CCC
 Application
 Residential/General-Purpose
 Payment
 T/T
 Delivery
 10-30 days after receive T/T payment
 Minimum Order
 200 pcs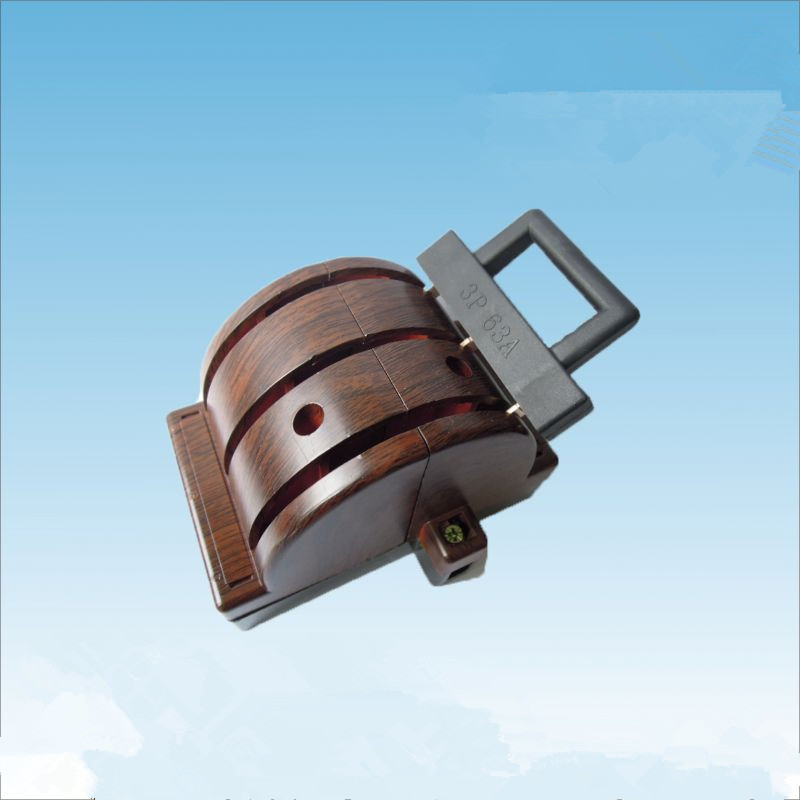 Applicable scope:
          Suitable for AC 50Hz, rated voltage to 380V, DC voltage to 380V, DC to 440V distribution equipment; rated current to 1500A, as a frequent manual switch on and off, the DC circuit or isolating switch with. Among them:

          1.The central handle type single throw and double throw knife switch is mainly used in the transformer substation, and does not cut off the circuit with the current, and is used as the isolating switch.
         2.Side operated handle type knife switch is mainly used in power box.
         3.The central positive lever operating mechanism knife switch is mainly used in the front operation and the rear maintenance switch cabinet, and the operating mechanism is installed in front of the switch.
        4.Lateral frontal operation mechanical switch is mainly used in the switch cabinet, in front of the front two operation maintenance, the operating mechanism can be installed on both sides of the cabinet.
        5.The knife switch equipped with arc extinguishing chamber can cut off the current load, and the other series knife switches are only used as disconnecting switches. Don't mess with it.
Use effect:

        1.Isolated power supply to ensure the safety of the circuit and equipment maintenance; or as a load that is not connected and disconnected frequently below rated current.
        2.Breaking load, such as low voltage circuit which is not connected and broken frequently, or directly started small capacity motor.
        3.When the knife switch is in the disconnection position, it can be clearly observed that the safety of circuit maintenance personnel can be ensured.
Packing information

Specification
Qty / Ctn
Gross W.
Net W.
Length
Width
Height
pcs
kgs
kgs
cm
cm
cm
2P32
60
16
15
56
34
24.5
2P63
30
13
12
39
32.5
31
2P100
24
15
14
51.5
36.5
22.5
2P225
8
13
12
46.5
22
30
3P32
24
12
11
43.5
28.5
25.5
3P63
16
11
10
49.5
34.2
21.3
3P100
12
12
11
41.2
36.6
24.5
3P225
4
10
9
34.5
25
30.5
4P63
12
12
11
47
34
23
4P100
8
12
11
39
34
23.5
4P160
8
16
15
45.5
37.5
26.5
4P225
4
12
11
42
25
30
       We are adhering to the principle of customer first, to your promise: each product before leaving the factory has been strictly tested to ensure quality.